By Madison Dyment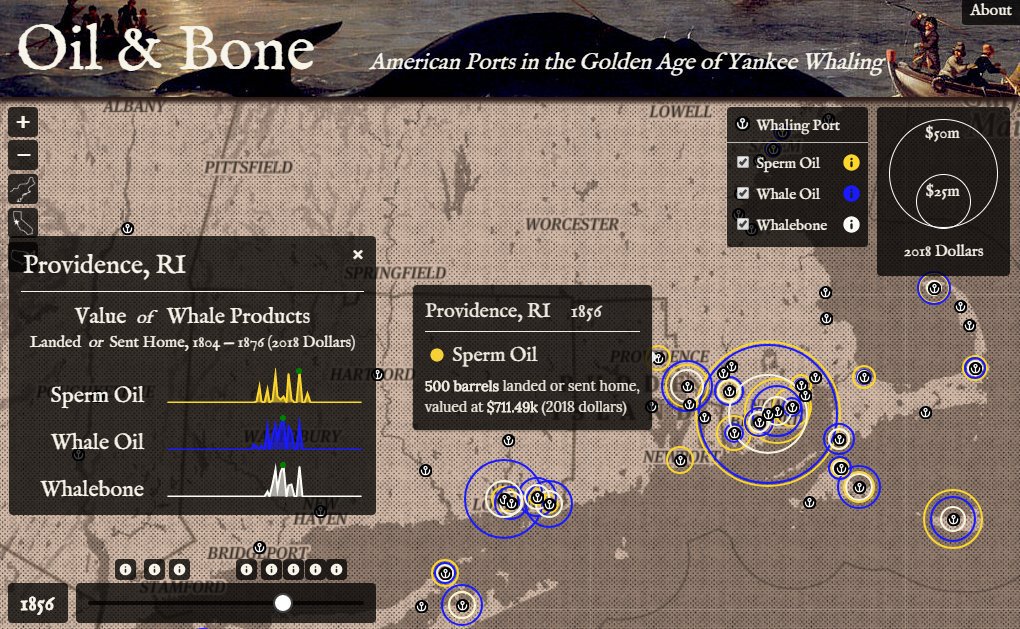 Kerry Gathers' map detailed the economic impact of the whaling industry throughout the 19th century.
Kerry Gathers, a student in the New Maps Plus online graduate program in the University of Kentucky College of Arts and Sciences, recently received the national first prize in the Dynamic Map competition at the North American Cartographic Information Society annual meeting.
Gathers' map detailed the economic impact of the whaling industry throughout the 19th century. To properly map out this information, he drew upon past records of historic American whaling voyages through a database.
"I've been interested in the history of whaling since reading 'Moby Dick,' which inspired me to read more and more about the subject," Gathers continued. "There's something romantic about the whaling, going the farthest distances to hunt the biggest prey, seeing the world, even though the actual violence of whaling is repulsive."
Far from being merely swept away by the unconventional romanticism of the subject, the economic impact of whaling piqued Gathers interest as well.
"The whaling economy of that time is also fascinating to me in that mundane products like lamp oil and whalebone corsets depended on the most grueling and dangerous work being done on the other side of the planet, especially at a time when most Americans rarely left their small towns and farms," he said.
Having learned about the award through his New Maps Plus instructor, Rich Donohue, Gathers poured this passion and interest into the project, putting in countless hours of work and research to design and perfect the final map, with advice and final touch-ups from Donohue to round-off the project.
"After putting so many hours into the map, it was extremely gratifying to have my work recognized by experts in the field," Gathers said. "It was extremely validating, and it gave me more confidence to pursue similar projects."
Gathers has held an appreciation for mapping from a young age, a fascination born from staring at road atlases as a child in the family minivan. In undergrad, he leveraged this interest into studying maps from the standpoint of powerful political tools in which places are both interpreted and defined.
"Our online graduate courses provide unique opportunities for our instructors and students, to push boundaries with interactive web-based techniques." Matthew Wilson, director of New Maps Plus said. "Kerry's project is a great example, representing the best of online education. We couldn't be more proud."
Before enrolling in the New Maps Plus program, Gathers — a Brooklyn resident— had completed a bachelor's degree in sociology and a master's degree in geography from the University of Georgia.
"After grad school, I moved to Washington, D.C., and began working in GIS and urban/regional planning. After five years working for the Maryland-National Capital Park and Planning Commission, I moved to New York to join the NYC Department of City Planning," Gathers said.
Gathers found out about the New Maps Plus program from a friend who had studied in the University of Kentucky Department of Geography. The online format fit his criteria of finding a program that would fulfill his desire to learn coding and web development through a flexible program that would also allow him to continue working. 
"The program builds such a broad range of skills with an emphasis on experimentation that builds the exploratory mindset developers need to keep up with new technologies," Gathers said. "I also appreciated the instructors' recognition of the power inherent to map-making."
With program requirements completed and this prestigious accolade under his belt, Gathers intends to build upon his map-making resume, with an emphasis upon practical application for public use.
"I enjoyed using a map to tell a historical narrative, so I expect I'll take on another project like that sometime soon," Gathers siad. "Professionally, I'm always looking for ways that my work, mapping or otherwise, can improve the lives of New Yorkers."
The final completed map for Gathers' project can be viewed at the following link: https://www.kgmaps.com/oil-and-bone/.
UK is the University for Kentucky. At UK, we are educating more students, treating more patients with complex illnesses and conducting more research and service than at any time in our 150-year history. To read more about the UK story and how you can support continued investment in your university and the Commonwealth, go to: uky.edu/uk4ky. #uk4ky #seeblue